Current opportunities
Get in touch

We're always keen to hear from curious people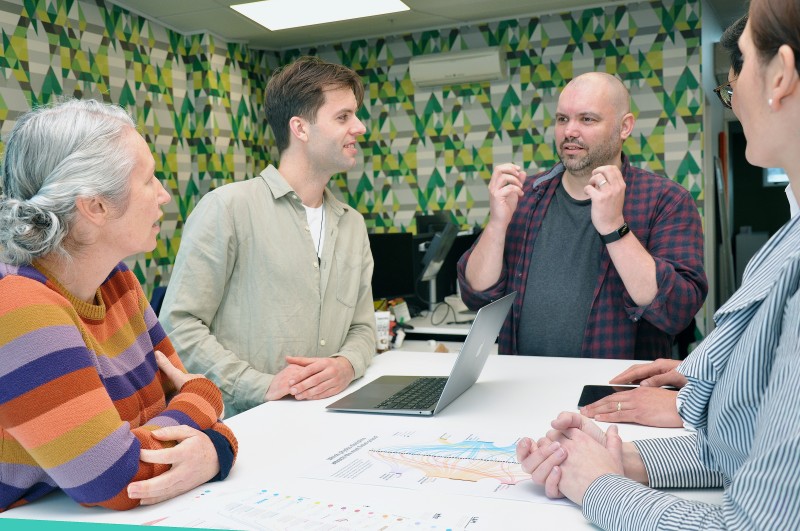 Employment Philosophy
Our employment philosophy is simple. We look for the right people and then do what it takes to get them on board and keep them growing. We aren't scared to invest in the right people to help realise their potential.
We cherish our culture, so every hire we make is very carefully considered.

We are a team who support each other, hold robust debates, and don't mind helping each other move house on the weekend.

We thrive on challenges, we view our successes (and failures) as opportunities for growth, and we never, ever want to stop learning.

We value mindset over skill set and we believe the team is more powerful than the individual.
Diversity, Equity, Inclusion
MadeCurious is an equal-opportunities employer. We don't just accept our differences, we aim to celebrate our diversity, and grow through sharing our unique experiences and perspectives. This has seen us take a wholehearted commitment to creating an inclusive environment that offers each of us the chance to thrive.
This is a place where you can bring your whole self to work.
We are driven by an unwavering love for our craft and a desire to deliver solutions for a better tomorrow. Our strength lies in our people. We value divergent thinking and create the environment for that to flourish.
What we look for
Mindset Over Skill Set

We are meticulous about hiring people with the right mindset. We know that technical skills and subject matter familiarity can be developed, but alignment on values and the mindset we show up with is the raw material that truly counts. So, we hire and support people who are humble, curious with a hunger to learn, clever, fun, open, friendly, flexible, accountable, hard-working and community-minded.

Trust

Building the right team starts with trust. Honesty, dependability and competence are non-negotiables. For psychological safety to thrive, trust must be rock solid. We operate in an open and accountable manner, admitting when we don't know something and asking for help when we need it. We keep our commitments and show up with an unusual level of care for each other.

Teaching and Learning

We aspire to be world-class, pushing ourselves and challenging each other to lift our game. We have committed professional development budgets for all staff, regularly down tools for "Guild Days" and run a pretty awesome book club. We dedicate Thursday lunchtimes to "Learning Lunches" where we share knowledge on whatever got someone else excited recently. We value open and honest discussion, asking each other for help and learning from our mistakes as a team.

Unashamed Geeks

Our minds are our most powerful tools. We operate in an ever changing landscape with new technologies, fads, functionality and pitfalls around every corner. It takes perseverance, curiosity and a smart mind to stay on top of our game. That's why we look for unashamed geeks who take unusual levels of pride in delivering their best work.