The Challenge
Aotearoa New Zealand's regional councils are responsible for helping protect the country's precious natural resources - including the groundwater sources that provide us drinking water. Each council maintained a register of all wells for their region. Unfortunately working independently resulted in inconsistent processes and data that made it hard to understand the national picture, increased costs to each individual council, and ultimately produced a poor experience for those trying to access the information.
Te Uru Kahika (the regional sector) came together, with support from Regional Software Holdings Limited (RSHL), to build a single national system.
The Solution
MadeCurious designed and built a new cloud-based wells system using our technology platform that could be used by all participating councils. This included a single shared data structure that means a consistent national view of wells and groundwater records. System APIs made this data easily available to other council systems.
The system is accessible to well drillers, enabling them to enter new data as they collect it - reducing admin tasks and improving data quality through automated checks and a new council review process.
Researchers and the public can also use the system to explore well records in their neighbourhood, their region, or around the entire country.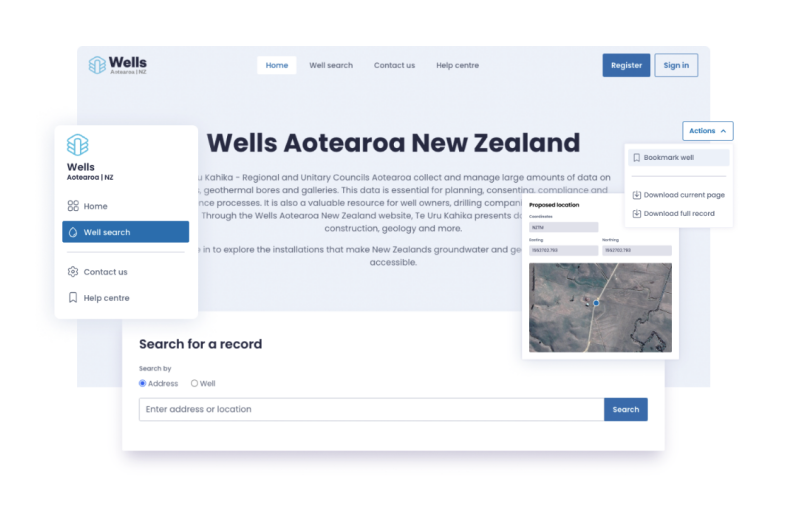 A focus on
A simple user experience that makes exploring data easy and intuitive

A single source of truth, accessible to all users interested in well and groundwater information

Improved data quality across the country, with clear auditability of any record changes
How it came together
Collaborate

Bringing together scientists and IT specialists from across Te Uru Kahika to build a shared vision and desired outcomes for the national system

Design

Interviewing a range of users to inform the design of a fully interactive prototype

Develop

Utilising our technology platform, the prototype was quickly turned into a working software product

Support

Dedicated hypercare support around the release of the new system, coupled with proactive maintenance, monitoring and improvements