It must have been over hot chocolates during our weekly sync up that Abi, MadeCurious' GM, suggested I blog about my role and adventures as her right-hand man/Chief of Staff.
It's uncommon for private companies in Aotearoa (New Zealand), to have a Chief of Staff (CoS) in their setup. Yet, we believe it offers a distinctive and compelling way of operating. We thought that sharing our experience could help other organisations exploring alternative management structures.
Though flattered by Abi's suggestion, penning down my experiences seemed daunting, awkward and self-promoting. But with the deadline to achieve my OKR (objective and key results) nearing, it was time to roll up my sleeves.

What even is a Chief of Staff?
Drafting this blog began with a quest to see how my dear friends at MadeCurious see and understand my role, and if they had any questions or curiosities that I can cover here.
A few runaway Slack threads and tangents later (which seems to happen so very often for us!), I wasn't surprised to find that even though most folks are aware of the role either from pop culture or current affairs*, no one's really quite sure what Chiefs of Staff do.
* You might recognize these Chiefs of Staff from:
TV series

Leo McGarry (The West Wing), Doug Stamper (House of Cards)

Real life

US tech companies: Gitlab, Microsoft, Google, Meta, Apple

Any White House Chief of Staff. They used to be rather low-profile - until recent times.

Alexander Hamilton - my personal favourite, the de facto Chief of Staff to George Washington, and subject of the hit Broadway musical (of which I've littered references to all over this blog)
And what do we have in common? Our role exists primarily to support our principals/executives in implementing their agenda and vision, and by preventing fires wherever possible (or help fight them when they come up) with the organisational context and relationships we hold.
The exact shape and responsibilities of a CoS depends a lot on the needs of the organisation and the leader - as well as the level of trust and mana the CoS can build to bridge the strategic view to the operational one.
That's…vague. So, what does a Chief of Staff
actually
do?
An in-joke within the CoS circles is that a more accurate title for us is actually the chief of Stuff instead - because our day-to-day never looks the same, our scope is always evolving and nothing's ever too big or small to fit into the 'Ad hoc duties as requested' part of my job description. We simply exist to get the (any) job done.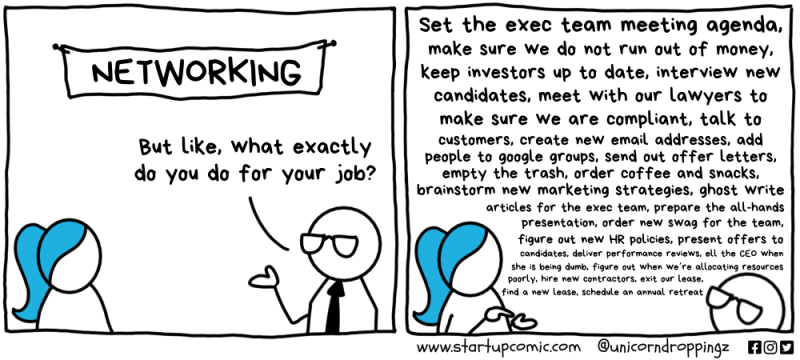 Other than helping Abi make the most of her limited time to focus on high-value/impact and strategic activities, and being the bridge between the leadership group and wider team, here's a short list of what I do (or have been doing) here at MadeCurious:
Being a sounding board
Supporting Abi (and the leadership team) in this way provides people with a safe space to vent and be vulnerable with their stressors, and celebrate wins and failures. This also includes playing the devil's advocate and challenging or stress-testing decisions when required.
Advocating for the organisation/team
Not holding any functional responsibility/areas or having direct reports allows me to be agnostic and focus on what's best for the organisation and the bigger picture, rather than biased toward any operational area.
Helping to take care of the team
For most of the eight years I've worked here Abi's been the person who's made sure the team is well supported, as well as the main driver behind lots of our initiatives around people and culture. As she stepped into a much larger role - while continuing to hold her prior portfolios - I'm stoked and proud to be able to help bridge that gap, and ensure that human connection and time for our team remains a priority.
(Light touch) Gatekeeping
Equipped with knowledge of what the organisation and Abi's priorities are, and a snapshot of where things are at across the company (all the context!), I'm often able to address or respond to things that might otherwise be on her plate. This allows me to help maximise the information flow across the organisation, prevent Abi from becoming a bottleneck or give her a heads up on where to look next.
A cheerleader and counsellor
In this role I bring context, perspective, and sometimes levity or dissent to conversations when the team needs a lift. (This frequently involves chocolates, donuts, or cakes.)
A nag (or accountability partner)
This helps to keep Abi accountable to her intentions to go for a run or get to yoga, prioritise her professional development, or block out time and space for deep thinking! Speaking of professional development, we often read similar books and attend training together - to make sure we're exploring the same ideas and can stress test concepts while reinforcing observations and learnings.
Band-aid
I take care of functions, gaps, special projects, or cross-functional initiatives that don't yet belong to any existing functions/roles or need covering, while making sure to feed Abi the context and insights to make better decisions. Since these are usually interim in nature, my job is also to leave things in a place that can be picked up by others (and make myself redundant!)
Doing the things
I also handle the intricacies of tasks ranging from board minutes and compliance duties to information security, device selection, and orchestrating the OKR cycles. This encompasses filling gaps and acting as a backup for crucial tasks that initially appear on Abi's list, such as insurance renewals, off-site planning, and occasions requiring follow-through. Essentially, if something begins on Abi's list, it frequently ends up on mine.
Team Barometer
Checking in on how the team is doing, while nurturing and protecting our values, and helping to grow our culture.
Unlike the Executive Assistant (EA) role - which tends to be more tactically/admin focused - CoSs lean more towards strategic initiatives, and have more autonomy to own and manage projects to completion. For example, even though I occasionally schedule meetings for Abi or ghostwrite internal communications, she manages her own schedule and correspondences.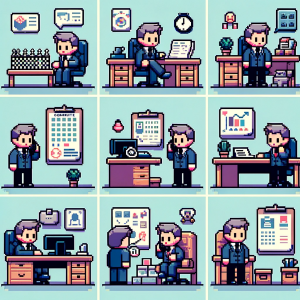 Why and how we developed the Chief of Staff role
Funnily enough, back in 2020 and long before we moved into our current roles, Abi and I, with George (our Founder) spent some time researching and scoping out what support for George could look like.
After reading articles like The Case for a Chief of Staff (HBR) and The Heart of CEO Effectiveness (BCG) we contemplated which of those roles might work in our context, and how they might work, before deciding that the time wasn't right to move further on that.
Fast-forward to 2022 - when we entered a new era here at MadeCurious (then Media Suite, before our recent rebrand) amidst a period of significant change and Covid-induced disruption. Abi, who was then our Commercial Manager (amongst other hats she held, and is still holding), stepped into the General Manager role, alongside a brand spanking new leadership team - with Rae and Max moving into the Head of Delivery and Growth roles respectively. Lee, our Head of Engineering, joined us later that May.
We quickly identified that maintaining or building trust, and open, transparent communication between the leadership group and the rest of the team, needed to be at the top of our priority list.
I was lucky enough that Abi, who had been my coach/mentor for the six years prior, thought that with the context, relationships, and strengths I bring, I would be able to help her be as effective as she can in her new role, and to make enough space with the transition to work. I wasn't going to throw away my shot at making a difference to the organisation and to work with my mentor while increasing my impact. So we set out to scope the role together while re-scoping Abi's role to play to both our unique strengths.
And that's how I ended up in my seventh role at MadeCurious.
In case you're wondering - that's intern, junior developer, QA tester, support analyst, support team lead and service delivery manager. Being open to moving people into different roles/opportunities to stretch and grow them is something we often do, and we're rather proud of!

My favourite things about being Chief of Staff
Where do I start? As a career generalist, and someone who gets bored so very easily - this is a dream job! I have tons of autonomy to climb up and down the ladder between strategic planning and tactical implementation, building relationships and seeing the team grow along the way.
I've definitely learnt, grown and become more confident as an individual contributor at MadeCurious over the past year from the opportunities this role provides.
Working with a wide cross-section of the team also allows me a unique vantage point to see how individuals are growing and stretching themselves, all while holding our core values true - to build the right thing for our partners, and ourselves.
Not owning functional responsibilities or direct reports gives me the freedom and clarity to voice my opinion from the organisational good's perspective. This provides me with space to coach the team both formally and informally, with them (hopefully) knowing my only bias is for the good of the company and its people

The challenges of being Chief of Staff
Although this is a role that I genuinely enjoy and find fulfilling, I have to acknowledge that no position is without its challenges. Being aware and embracing these challenges, while working through them isa significant part of my professional growth. Here are some of the things I've learnt.
Trust and relationships
I firmly believe these to be the most important ingredients for a Chief of Staff to thrive, and have to constantly remind myself that trust and relationships are hard to build, but easy to lose, especially with the principal.
The balance between holding others accountable to our values and responsibilities while caring for them personally and wanting to maintain relationships (and friendships) can be hard to manage, but yet - so crucial.
Emotional labour
Because of this, the role can require a significant amount of emotional labour, and huge reserves of resilience. Mitigating conflicts, and being the sounding board for various members of the team can be emotionally taxing, and it can be difficult to prioritise your own well-being amidst this.
Avoiding bias
Having a close relationship with the principal means I always have to be conscious of potential bias - including my own. Every decision I make and every piece of advice I provide needs to prioritise the organisation over our personal perspectives as GM and Chief of Staff. I also have to be aware that sometimes my personal opinions might be misread as a direction from Abi.
Boundaries
A downside of being the air traffic controller of information flow in the organisation (as well as being across both our to-do lists) is that it can be overwhelming, and I constantly feel like there are a million things I haven't done.
It's really easy to fall into the trap of saying yes to all the things and end up working crazy long hours or weekends to fulfil those commitments. My favourite quote here is "What are you going to say no to if you're saying yes to something?" because there are always more ideas than time to execute them. I'm still learning to properly prioritise (and de-prioritising or declining) tasks to focus on things that truly move the needle - and delegate when I can to our amazing Internal Ops team.
Balancing confidentiality
As part of this role, you're also sometimes privy to sensitive information, and balancing being open by default with the team and withholding confidential information can be challenging.
Role ambiguity
A Chief of Staff often operates in a (lonely) space without peers to consult with, share best practices with or simply rant to about common pain points - unlike Engineers, Designers or even the leadership team.
Which is why I was so happy to discover and join both the Chief of Staff Network and Chief of Staff Association as a member (though the vast majority of their members are based outside Aotearoa). That has opened the doors to communities of folks in similar roles who understand the role and its challenges, and are open to sharing ideas. Both groups also provide amazing professional development resources which I've relied heavily upon.
Personally, it was especially hard to transition from an operational-type role with defined metrics and clear short-term successes, to one where you often don't see results or successes (or failures!) till a long time later, if ever. Writing this blog was therapeutic and helpful to recall the little wins along the way - so I'm definitely satisfied!
Ego
Lastly, I'd like to think my self-awareness (and inner voice) have been helpful in my growing into this job. There is a risk that you could take yourself too seriously in this role because of the proximity to the executive/leadership team - so I often remind myself the job is to smooth the path for Abi and the team to do their best work, and deliver the best outcomes for our team, and our partners.
In conclusion
For someone who started this blog by stating the awkwardness - I've ended up letting down my guard and putting down all my thoughts, haven't I? I do hope that I've managed to demystify the Chief of Staff role, while giving you an insight into my view from the room where it happens.
Before I go, I need to emphasise that this role only exists in service of the principal - and it cannot succeed without a strong, trusted relationship between the two. In that sense, having worked alongside and built trust with Abi for so long prior to this has given us a strong start for success.
Has it been hard to juggle the challenges and things to be done, while supporting Abi and taking care of the people? Definitely. And yet - there's joy in seeing pockets of awesomeness within the org, and supporting the leadership team in nurturing our culture and building MadeCurious into a company which could be here 100 years from now. It all gives me great satisfaction.
If you're keen to learn more about the Chief of Staff role or find yourself in a similar position, or want to learn more about what we do at MadeCurious, I'd love to grab a coffee and chat. Reach out to me at steve@madecurious.com!